How to Apply
How to Apply
Exhibition Booths
Standard booth size
1 booth 9m2(3m×3m)
Booth Fees
Non-Members
JPY 410,000 (Tax not included)/booth
WECC Members ※
JPY 350,000 (Tax not included)/booth
※World Electronic Circuits Council (WECC) member associations are eligible for the JPCA member exhibitor' s booth lease fees. WECC Member Associations: China Printed Circuit Association (CPCA), European Institute of Printed Circuits (EIPC), Hong Kong Printed Circuit Association (HKPCA), IPC ‒ Association Connecting Electronics Industries (IPC), Indian Printed Circuit Association (IPCA), Korean Printe d Circuit Association (KPCA), Taiwan Printed Circuit Association(TPCA).
Corner Booth Fees
Exhibitors who would like to exhibit at a corner booth are requested to note this on the application form. Y ou will receive priority to choose a corner booth at the time of selecting booth position.
Please be sure to apply early if you want a corner booth, as they are in limited supply. Corner charge: JPY15,000/booth (Tax not included) (charges will be doubled in case of two corner booths).
Number of Booths that may be Applied for
There is no limit on the number of one booth units that exhibitors may apply for.
How to Apply
Please select the exhibition you would like to exhibit at depending on the products, technologies, and services you would like to exhibit, and having carfully read the exhibition Regulations on the reverse side of the exhibition Application Form, enter your choice of exhibition in the Application Form and post it to the JPCA office.
Applications to be sent to
Mr. Sasaki / Ms. Asaoka / Ms. Taguchi
Secretariat: c/o ICS Convention Design, Inc.
Chiyoda Bldg. 1-5-18, Sarugakucho, Chiyoda-ku, Tokyo 101-8449, Japan
Tel: +81-3-3219-3641 Fax: +81-3-3219-3628 E-mail:jpcashow@ics-inc.co.jp
Application Deadline
Tuesday, March 10, 2015 (final deadline)
Payment Deadline
Friday, March 13, 2015(single payment only)
Determination of Booth Position
Determining booth position: The booth positions will be determined at the Exhibitors' Briefing (scheduled to be held on Friday, March 13, 2015).
As a rule, booths assigned as part of the same application and for the same exhibition will be positioned together taking into account booth number and type and the functional zoning layout of the exhibition hall. Based on this, exhibitors will be offered a choice of booth position, with priority given to corner booth applicants on a first-come-first-served basis (earlier applicants will get priority over later applicants). All other booth positions will be determined by JPCA taking booth proximity to the entrance to the hall into account.
Priority of selection will be based on the date of application as reflected by the receipt number issued by the JPCA office with early applications given priority over later ones.
Cancellations
If an exhibit is cancelled to suit the exhibitor's circumstances, cancellation charges (full or partial fees) shall apply as below.
Date of receipt of written notice of cancellation (by post, fax, or email)
Cancellation charges
Applicants
By Friday, February 13, 2015
50% of booth fees
From Saturday, February 14, 2015
to Friday, March 13, 2015
70% of booth fees
From Saturday, March 14, 2015 onward
100% of booth fees
Sponsored Seminars
This is a program perfectly suited to scheduled exhibitors who are looking to get new customers or gauge customer reaction.
The venue will be set up inside the exhibition hall. Closed presentation areas will also be created using partitions.
[Seminar Details]
Location: Inside the exhibition hall (closed, walled in/roofless)
Capacity: about 50 (auditorium-style)
1 set/stage: 45 mins
Access fee: 820,000 yen (Tax not included)
Application period start: March 16 (tentative)
This seminar allows each company to apply for up to 3 sets. All you will need to bring on the day of your presentation is your laptop. All other equipment (projector, screen, microphone, etc.) will be provided by exhibition staff. Please note that presentation timetables will be set by the administrative office in coordination with other participants on a first-come first-served basis.
Guide to Applications to Exhibit at Academic Plaza
An "Academic Plaza" event sponsored by JIEP with the aim of enhancing industry-academia collaboration will be held concurrently with JPCA Show 2015, Large Electronics Show 2015, WIRE Japan Show2015,2015 Microelectronics Show, and JISSO PROTEC 2015.
The latest research activities at universities, research institutes, and other related organizations, as well as research results will be presented through booth exhibitions and presentations, contributing to industry-academia collaboration, generation of new business opportunities, and encouraging joint research and development with companies. We urge persons from universities, research institutes and other related organizations to take advantage of this opportunity and further promote industry-academia collaboration.
Target Products and Technologies
All packaging and electronic technologies (materials technologies, circuit and packaging design technologies, high-speed and highfrequency technologies, electromagnetic property technologies, reliability analysis technologies, electronic parts and packaging technologies, optical circuit packaging technologies, environmentally friendly packaging technologies, semiconductor packaging technologies, micro-mechatronics packaging technology, etc.)
Applications Expected From

Japanese and foreign universities, research institutes, related organizations (we request that you respond to questions from visitors to the extent possible during the exhibition period)

Exhibitions

Exhibition and oral presentation of research results
There are three formats for which you can apply:

(1) Present on research results and introduce your laboratory
(2) Only present research results
(3) Only introduce your laboratory

In the case of (1) and (3), each exhibitor (university, research institute, etc.) will be provided with one small room for their exhibition. Please contact the JIEP administrative office if two or more rooms are required.

How to Apply
Interested exhibitors should contact the JIEP Office.
TEL: +81-3-5310-2010 E-mail:academic@jiep.or.jp
Information on the standard package booth for exhibitors
We are offering various types of low-cost package booths where all it takes to be able to exhibit is to bring in the exhibits, product samples, presentation panels and catalogs/brochures to the venue on the day an hour before the exhibition opens.
※Specifications and prices are subject to change. ※See separate guide for more details.
1 booth/1 side open planJPY 75,000 (plus tax)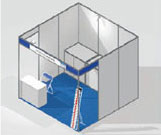 | Specifications | Number |
| --- | --- |
| Parapets | 1 |
| Carpet | 9m² |
| Company name display | 1 |
| Lighting 40W | 1 light |
| 100W spotlights | 2 light |
| Specifications | Number |
| --- | --- |
| Power outlet 100V | 1 |
| Electrical wiring | 1.3kw |
| Reception set | 1 |
| Display stands | 2 stands |
| Catalog stand | 1 |
Two booths/one side open planJPY 118,500 (plus tax)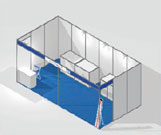 | Specifications | Number |
| --- | --- |
| Parapets | 1 |
| Carpet | 18m² |
| Company name display | 1 |
| Lighting 40W | 2 light |
| 100W spotlights | 4 light |
| Specifications | Number |
| --- | --- |
| Power outlet 100V | 1 |
| Electrical wiring | 1.6kw |
| Reception set | 1 |
| Display stands | 4 stands |
| Catalog stand | 1 |
Three booth,one side open planJPY 170,000 (plus tax)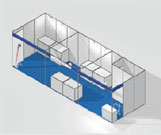 | Specifications | Number |
| --- | --- |
| Parapets | 1 |
| Carpet | 27m² |
| Company name display | 1 |
| Lighting 40W | 3 light |
| 100W spotlights | 6 light |
| Specifications | Number |
| --- | --- |
| Power outlet 100V | 1 |
| Electrical wiring | 1.9kw |
| Reception set | 1 |
| Display stands | 6 stands |
| Catalog stand | 1 |
Four booths/three sides open planJPY 212,500 (plus tax)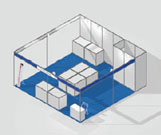 | Specifications | Number |
| --- | --- |
| Parapets | 1 |
| Carpet | 36m² |
| Company name display | 1 |
| Lighting 40W | 6 light |
| 100W spotlights | 7 light |
| Specifications | Number |
| --- | --- |
| Power outlet 100V | 1 |
| Electrical wiring | 2.2kw |
| Reception set | 1 |
| Display stands | 8 stands |
| Catalog stand | 1 |