Exhibit Support Program
We offer various types of support services to exhibitors to help them get the maximum results from the exhibition. The services range from inviting visitors to company booths through to exhibitor seminars and issuing press and media releases.
Basic
JPCA mail delivery service
We offer year-round delivery service of emails containing exhibition or exhibitor related information. This proactive PR based on the distribution of emails containing exhibitor information serves as good promotion for gathering visitors to the expo. We urge exhibitors to make full use of this service.
Distributing press releases
We issue Press & Medias to all news agencies from the press room set up for this purpose at the exhibition venue. This can be used by exhibitors to effectively disseminate information about new products, eye-catcher products, or new technologies etc.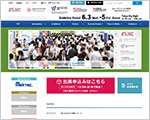 Information posted on the official website
The official website for the all exhibitions is available for viewing all year round by everyone including exhibitors, visitors, industry persons, presspersons, and other interested persons. The website not only introduces products for exhibition by exhibitors but also other products handled by exhibiting companies, and links to the website of the companies. This helps with proactive PR activities aimed at visitors to the exhibition and other related people.
Creating and distributing posters for the all exhibitions
We create and widely distribute posters of the all exhibitions not just to potential exhibitors but all other related entities with a view to widely advertising the event. Please make use of this service for in-house communication purposes or for distributing among potential visitors to the exhibition.
NPI - New Products Introduction Presentation Program
Seminar rooms and presentation equipment are available free of charge for the use of exhibitors so that they may make effective presentations about their new products or technologies to users. Visitors will be informed of the presentation schedule and program in advance through the exhibition hand-guide or the official website.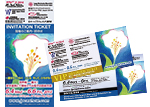 Providing brochures with an enclosed list of exhibitors (containing invitations) aimed at ordinary and VIP visitors
We offer free brochures with an enclosed list of exhibitors (containing invitations/invitation cards) aimed at ordinary as well as VIP visitors. In addition to the fixed number of brochures offered to each exhibitor based on the number of booths rented, an additional set of invitations on demand are also available for free. Please do make use of this service in order to send out invitations to your valuable clients.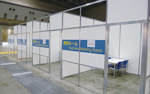 Use of business discussion rooms at exhibition venue
We offer negotiation rooms as a place to promote communication between exhibitor and limited customers (demographic slivers) discussing unpublished technologies or products.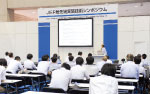 Invitation to the Advanced Electronics Packaging (JISSO) Technology Symposium
The Japan Institute of Electronics Packaging (JIEP) offers free invitations to attend its interactive Advanced Electronics Packaging (JISSO) Technology Symposium every year.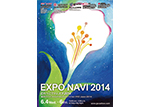 Information published in the official guidebook "EXPO NAVI"
We post the company information to "EXPO NAVI", the guidebook which plainly shows all seminar programs, exhibitor lists, and booth map.
Total Support for your Promotion
Functional Zoning Thematic Headings
In 2015, exhibitor can appeal the solution with following six themes to application designer who has problems to solve.

Application icon
Main applications of your company's product and technology.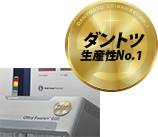 Superior DANTOTSU productivity icon
Exhibitors of material, facilities, equipment can display the "Superior productivity" icon if the appeal is UP 30% productivity than conventional.

Project sign
Your company's appealable technologies can be displayed on this sign
Optional Support Services
Multipurpose Room/Stockroom
We will make arrangements for private stockrooms at the exhibition venue that can be locked up.
Signboard Advertisement
You can put up advertisements on the various types of signboards set up in the exhibition venue. Please make use of this as a public relations service to attract visitors to your exhibition booth.
Business Discussion Rooms for Rent
Rental business discussion rooms are available for the purpose of conducting business discussions, meetings and private seminars with small numbers of special clients.
Information on the standard package booth for exhibitors
We are offering various types of low-cost package booths where all it takes to be able to exhibit is to bring in the exhibits, product samples, presentation panels and catalogs/brochures to the venue on the day an hour before the exhibition opens.
※Specifications and prices are subject to change. ※See separate guide for more details.
1 booth/1 side open planJPY 75,000 (plus tax)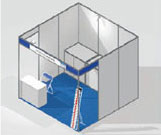 | Specifications | Number |
| --- | --- |
| Parapets | 1 |
| Carpet | 9m² |
| Company name display | 1 |
| Lighting 40W | 1 light |
| 100W spotlights | 2 light |
| Specifications | Number |
| --- | --- |
| Power outlet 100V | 1 |
| Electrical wiring | 1.3kw |
| Reception set | 1 |
| Display stands | 2 stands |
| Catalog stand | 1 |
Two booths/one side open planJPY 118,500 (plus tax)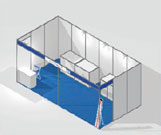 | Specifications | Number |
| --- | --- |
| Parapets | 1 |
| Carpet | 18m² |
| Company name display | 1 |
| Lighting 40W | 2 light |
| 100W spotlights | 4 light |
| Specifications | Number |
| --- | --- |
| Power outlet 100V | 1 |
| Electrical wiring | 1.6kw |
| Reception set | 1 |
| Display stands | 4 stands |
| Catalog stand | 1 |
Three booth,one side open planJPY 170,000 (plus tax)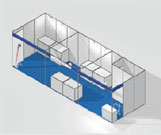 | Specifications | Number |
| --- | --- |
| Parapets | 1 |
| Carpet | 27m² |
| Company name display | 1 |
| Lighting 40W | 3 light |
| 100W spotlights | 6 light |
| Specifications | Number |
| --- | --- |
| Power outlet 100V | 1 |
| Electrical wiring | 1.9kw |
| Reception set | 1 |
| Display stands | 6 stands |
| Catalog stand | 1 |
Four booths/three sides open planJPY 212,500 (plus tax)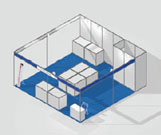 | Specifications | Number |
| --- | --- |
| Parapets | 1 |
| Carpet | 36m² |
| Company name display | 1 |
| Lighting 40W | 4 light |
| 100W spotlights | 8 light |
| Specifications | Number |
| --- | --- |
| Power outlet 100V | 1 |
| Electrical wiring | 2.2kw |
| Reception set | 1 |
| Display stands | 8 stands |
| Catalog stand | 1 |