How to Apply
Exhibition fees [1booth / 3m×3m=9m²]
Category
1booth / 9m² tax included
Non-Members
Yen 496,100
Members *1
Regular
Yen 423,500
*1 Members of the following associations
  WECC Member Associations(CPCA, EIPC, ELCINA, HKPCA,IPC,IPCA,KPCA,THPCA,TPCA)
  AEIS, KPIA
**1 booth size is 3mx3m =9m²
**Fee is for raw space only and does not include the cost of set-up, decorations, electricity, plumbing, cleaning, garbage disposal, etc.
Booth type

*Based on availability
Assignment of Booth Location
Booths will be assigned at the Booth Location Selection Meeting (Scheduled to be held in late March 2024).
As a rule, exhibitors will be able to choose their booth locations on a first-come-first-served basis.
*For details, please refer to the Exhibitor Rules and Regulations.
How to apply
Please apply online on our website.
If you use the Application Form, please apply by e-mail or FAX.
Please select the exhibition based on your products, technologies or services and carefully read the "Exhibition Regulations" on the back of the Application Form.
For the exhibition which has the exclusive application form, the relevant exhibition regulations shall be applied.
An invoice will be issued upon receipt of your application.
Please download the invoice from each exhibitor's website.
Application Deadline
Thursday, February 29, 2024
If all spaces are reserved before the deadline, the application will nolonger be accepted.
Cancellation charges
If an exhibit is cancelled due to the circumstances of the exhibitor, cancellation charges (full or partial fees) shall apply as below.
| Date of receipt of written notification of cancellation | Cancellation Charges |
| --- | --- |
| Until Thursday, February 29,2024 | 30% of booth fees |
| Friday, March 1 - Sunday, March 31,2024 | 50% of booth fees |
| Monday, April 1 - Tuesday, April 30,2024 | 70% of booth fees |
| From Wednesday, May 1, 2024 onward | 100% of booth fees |
Information on the standard package booth for exhibitors
Package booth
Option
We are offering cost-effective package booths including basic furnishings and ornamentation as a set.
1 booth / 1 side open plan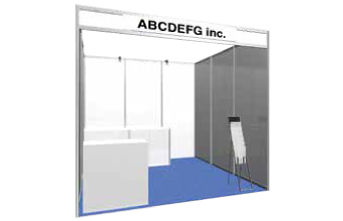 Fee: 118,800JPY (tax included)
This plan includes the minimum necessary booth fixtures and fittings, power supply and carpet.
For more details, please refer to the document to be distributed around mid-March 2024.