How to Apply
Exhibition fees [1booth / 3m×3m=9m²]
Category
1booth / 9m² tax included
Non-Members
Yen 451,000
Members *1
Regular
Yen 385,000
Increased booth discount *2
50% off the exhibition fees of the increased booths
*1 Members of the following associations
  WECC Member Associations(CPCA, EIPC, ELCINA, HKPCA,IPC,IPCA,KPCA,THPCA,TPCA)
  AEIS, KPIA
*2 Increased booth discount: 50% of the exhibition fees will be discounted for the number of booths increased from the maximum number exhibited from 2018 onwards.
**1 booth size is 3mx3m =9m²
**Fee is for raw space only and does not include the cost of set-up, decorations, electricity, plumbing, cleaning, garbage disposal, etc.
Booth type

*Based on availability
Assignment of Booth Location
Booths will be assigned at the Booth Location Selection Meeting (scheduled for mid-March, 2023).
As a rule, exhibitors will be able to chose their booth locations on a first-come-first-served basis.
How to apply
Please fill out the Application Form in consideration with the following:
− Carefully read the "Exhibition Regulations"
− Select the exhibition based on your product
− Please be sure to read the "Terms and conditions" on the reverse side of the application form.
 The terms and conditions may differ depending on which exhibition you apply to.
− The Secretariat will prepare the invoice, which will be made available on the Exhibitor Website.
 Please make the payment by the date stated on the invoice.
Deadline
Tuesday, February 28, 2023
Cancellation charges
If an exhibit is cancelled due to the circumstances of the exhibitor, cancellation charges (full or partial fees) shall apply as below.
| Date of receipt of written notification of cancellation | Cancellation Charges |
| --- | --- |
| Until Tuesday, February 29, 2023 | 30% of booth fees |
| Wednesday, March 1 – Friday, March 31, 2023 | 50% of booth fees |
| Saturday, April 1 – Sunday, April 30, 2023 | 70% of booth fees |
| From Monday, May 1, 2023 onward | 100% of booth fees |
Information on the standard package booth for exhibitors
Package booth
We are offering cost-effective package booths including basic furnishings and ornamentation as a set.
1 booth / 1 side open plan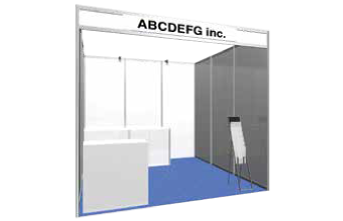 Fee: 82,500JPY (tax included)
Includes basic furnishings, electricity, carpets.
The above prices are fees for furnishing and ornamentation only.
Specifications and prices are subject to change. More details will be announced around mid-March, 2023.
**Please refer to the following websites for the most recent information.