How to Apply
Exhibition fees [1booth / 3m×3m=9m²]
| Exhibition fees | 1booth / 3m×3m=9m² tax included |
| --- | --- |
| Non-Members | Yen 451,000 |
| Members *1 | Yen 385,000 |
*1 Members of the WECC associations (CPCA, EIPC, ELCINA, HKPCA, IPC, IPCA, KPCA, THPCA and TPCA.)
**1 booth size is 3mx3m =9m²
**Fee is for raw space only and does not include the cost of set-up, decorations, electricity, plumbing, cleaning, garbage disposal, etc.
Booth type

*Based on availability
Assignment of Booth Location
Booth locations will be determined by the organizers based on factors such as the number of exhibition booths, past participation, and membership, and will be announced at the Exhibitors' Briefing.
How to apply
Please fill out the Application Form in consideration with the following:
− Carefully read the "Exhibition Regulations"
− Select the exhibition based on your product
− Please be sure to read the "Terms and conditions" on the reverse side of the application form.
 The terms and conditions may differ depending on which exhibition you apply to.
− The Secretariat will prepare the invoice, which will be made available on the Exhibitor Website.
 Please make the payment by the date stated on the invoice.
The Total Solution Exhibition for Electronic Equipment 2021

Online Application Form
SmartSensing 2021

Online Application Form
InterOpto 2021/LED Japan 2021/Imaging Japan 2021

Online Application Form
Edge Computing 2021

Online Application Form
*If you would like to apply for JEP/TEP or E-Textile exhibitions, please contact the Secretariat.
Deadline
Cancellation charges
If an exhibit is cancelled due to the circumstances of the exhibitor, cancellation charges (full or partial fees) shall apply as below.
| Date of receipt of written notification of cancellation | Cancellation Charges |
| --- | --- |
| By Tuesday, August 31, 2021 | 30% of booth fees |
| Wednesday, September 1 – Thursday, September 23, 2021 | 70% of booth fees |
| From Friday, September 24, 2021 onward | 100% of booth fees |
Information on the standard package booth for exhibitors
Package booth
We are offering cost-effective package booths including basic furnishings and ornamentation as a set.
1 booth / 1 sideopen plan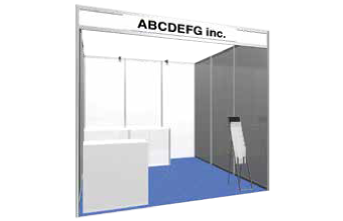 | | |
| --- | --- |
| Parapets | 1 set |
| Carpet | 9m² |
| Company name display | 1 set |
| Spotlights | 2 lights |
| Power outlet | 100V 1 |
| Electrical wiring | 1.3Kw |
| Reception set | 1 set |
| Display stands | 3 stands |
The above prices are fees for furnishing and ornamentation only.
Specifications and prices are subject to change. More details will be announced around August, 2021.
**Please refer to the following websites for the most recent information.