2016 Feature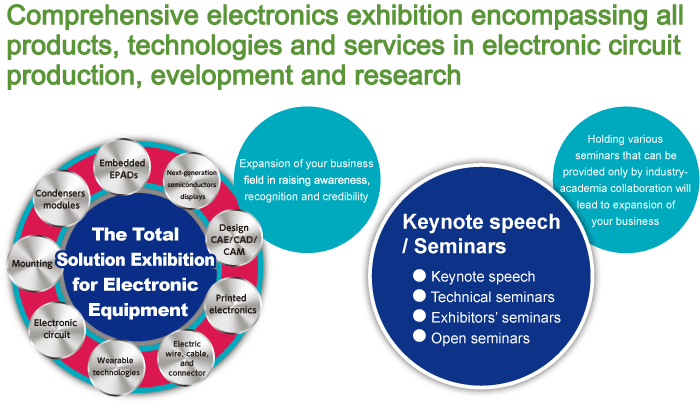 Exhibition Theme

Exhibition Features
The World's top-level, Industry-Academia Collaboration
①Everyone in the electronic circuit industry participates.
②Comprehensive exhibition encompassing all products, technologies and services in electronic circuit production, development and research.
③Users and buyers from Japan and overseas attend the exhibition with the aim of purchasing new products and adopting new technologies.
④Excellent for raising awareness, recognition and credibility of your company(product or technology)within the industry.
⑤As a comprehensive, specialized electronic circuit and packaging exhibition, the event will offer the perfect venue for exhibitors to form partnerships, conduct business and exchange information.
The highlight of JPCA Show
Featured exhibits, programs and technical conferences are available.
Business
person

Offer the latest skill and networking opportunities that will impact your company.
Companies, universities,researchers,embassies and municipalities, exhibitors from various fields displaying new products and technologies.
Improve a sense of business

Industry – academia collaborated Seminar programs
Provide seminar programs which effectively arouses a purchasing will of engineers.
2015 was the largest in its history!
Date
day of week
Weather
Number of visitors
Total
Day 1
June 3
Wednesday
Cloudy after rain

12,908


(12,945)

12,908


(12,945)
Day 2
June 4
Thursday
Sunny

12,890


(11,829)

25,798


(24,774)
Day 3
June 5
Friday
Rain after cloudy

13,072


(12,274)

38,870


(37,048)
* ( ) is the number of the previous year.
Number of exhibitors/Number of booths
●Number of exhibitors : 700(676)
●Number of booths : 1,412(1,402)
* ( ) is expected number in 2014
From overseas
The 2015 show was attended by
2,000 overseas visitors.
Our efforts to attract those in the electronic
circuits industry will bring many visitors from
overseas, particularly from China, Taiwan, Korea,
and other Asian nations.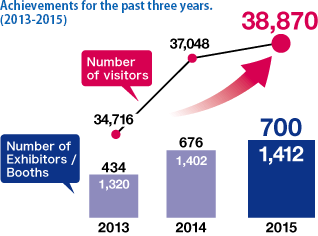 Overall layout of exhibition 2016(Tentative)